Hello and welcome to the Friday Fiction Feature! Tabatha here again with some practical planning advice.  Whether you're finishing up school or just looking to change jobs, this is a good time to be thinking about the future: the careers you might want to pursue, the spouses you might want to murder…oops getting ahead of myself. Anyways, today we'll be discussing career options for the academic looking for a change.
______________________________________________________________
Some of you, like me, have been living in academia so long you forgot there are jobs other than teaching. I know, I know, strange new thoughts, but if you'll bear with me, we can explore a few alternatives that offer thrills, chills, and complete freedom from departmental meetings.
Murder on the Lusitania (George Porter Dillman & Genevieve Masefield #1) by Conrad Allen
With these qualifications in mind, I'd like to start with one of my favorite job possibilities: detective to the idle rich. Just think of it, going undercover means fancy clothes, delicious food, expensive entertainment, and all of it on someone else's bill! I know this sounds a little out of the academic skill set but think about it; your finely honed critical thinking skills will help you find and explain clues, your extensive reading background will dazzle anyone who tries to question your credentials as an over-educated rich person, and your experience controlling classrooms full of freshmen will leave you more than prepared for the dangerous side. With experience like that you'll be ready to solve Murder on the Lusitania.
September 1907. George Porter Dillman sets sail from Liverpool on the Lusitania's maiden voyage. Hired by the ship's captain to pose as a passenger, George is in fact a private detective for the Cunard Line. In the first days of his voyage, George only has to deal with a few petty crimes. But then an expensive piece of jewelry is reported stolen and a body is found. Working quickly to solve both crimes, George makes an unusual friend, Genevieve Masefield, and the two uncover secrets aboard the ship that prove explosive.
Room with a Clue (Pennyfoot Hotel Mysteries #1) by Kate Kingsbury
If active detective work seems a little too dangerous, there is always the option of letting the work come to you. You could settle down like the protagonist of Room with a Clue to a life of quite business. Run a nice hotel where your biggest problem is stolen towels, and then, when calm turns to boredom, just emulate the successful Cecily and invite more…interesting guests from time to time, just to keep things lively you know.
Beginning a new series set in a seaside hotel in Edwardian England, Room with a Clue shows that murder never needs a reservation at the Pennyfoot Hotel. Owner Cecily Sinclair runs a smooth hotel, but the death of an offensive snob could kill her business.
___
Now, when planning for the future, it is always wise to consider all options. Even if something seems unlikely, it would be foolhardy to write off a viable option before you have definitely settled on an alternative. And so it seems only prudent to include an option which is designed to have the highest possible work/income ratio: trophy spouse. Now there are a few things to consider before setting your sights on this particular career path. First you have to find an appropriate, and appropriately rich spouse, woo them, secure your millions, and get out. Now strategies for finding and wooing a millionaire is going to be different in every instance, so we'll leave that to the experts. However, getting out with your millions intact is a much simpler endeavor.
Malice Aforethought by Francis Iles
Let's say you've settled on a life as trophy spouse, found and married your Mr/Mrs Moneybags, but now you need to leave. You weren't able to avoid the dreaded "prenup,"  and now you've got to find another way out, millions intact. Well have no fear, just turn to Malice Aforethought for a handy exit strategy (alibis not included).
On a balmy summer's day in 1930 the great and the good of the county are out in force for the annual, much-anticipated tennis party at the Bickleighs, although not everyone has much enthusiasm for the game. The tennis party exists for other reasons – and charmingly mannered infidelity is now the most popular pastime in the small but exclusive Devonshire hamlet of Wyvern's Cross. Which is why, in his own garden, the host, Dr Edmund Bickleigh, is desperately fighting to conceal the two things on his mind: a mounting passion for Gwynfryd Rattery – and the certain conviction that he is going to kill his wife …
Anything Goes (Grace & Favor #1) by Jill Churchill
Unfortunately, I don't see much of a future in the trophy-spouse racket, at least for me. Call me a defeatist, but something tells me this Midwestern girl with a significant other and no skills in baseless flattery is not cut out to be someone's trophy wife. Oh well, I'll just have to search elsewhere for my millions. Fortunately Anything Goes has given me an idea for another way to become one of the idle rich; it's very simple, all you have to do is inherit a fortune. Such a simple solution, and probably much easier than marrying for money! Now all I have to do is acquire a few rich relatives… Hmm… maybe convince an uncle to marry rich…
They Have Inherited a Lovely Upstate Mansion. . .
The crash of 1929 has ended the party for high-living New Yorkers Lily Brewster and her brother Robert and takes them from the upper echelons of the idle rich and deposits them to the lowly depths of the disillusioned poor. However, rescue arrives in the form of their recently deceased great-uncle Horation who bequeaths to them Grace and Favor "Cottage" which is really a great sprawling mansion. And there's a fortune to go with it, but only if they reside there for ten years.
And an Inconvenient Corpse
With no other alternative, the spirited Manhattanites move to a quiet and quaint Hudson River community and try to fit in. But they soon find out that great-uncle Horatio didn't die peacefully. He was murdered while on an elaborate sailing party on the Hudson River aboard his yacht — and Lily and Robert are suspects. But when another corpse appears in the kitchen of the mansion, the siblings are determined to clear themselves. Without a clue how to begin, Lily and Robert start snooping, unaware that their savvy sleuthing could make them the killer's next targets.
Horrorstör by Grady Hendrix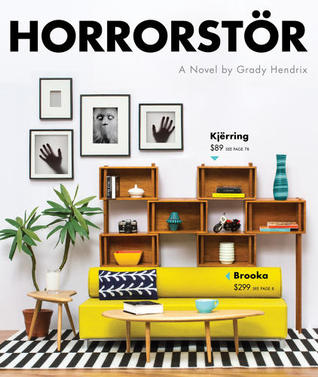 Of course, these are just a few options for how you can put those degrees to some interesting use, and I'm sure we'll come back to the subject later on but before we go, it seems prudent to include one last type of career path. You see, all the jobs listed above are what you might call terminal: eventually you have to stop doing them. But what if you're the kind of person who just has to keep on working, you go crazy without something to do? Well we've got just the answer for you, a job you can't get too old for, that you can keep forever. Thanks to Horrorstör we now know that even in our modern world, there will always be a place for the really industrious to go on haunting working.
Something strange is happening at the Orsk furniture superstore in Cleveland, Ohio. Every morning, employees arrive to find broken Kjerring bookshelves, shattered Glans water goblets, and smashed Liripip wardrobes. Sales are down, security cameras reveal nothing, and store managers are panicking.
To unravel the mystery, three employees volunteer to work a nine-hour dusk-till-dawn shift. In the dead of the night, they'll patrol the empty showroom floor, investigate strange sights and sounds, and encounter horrors that defy the imagination.
A traditional haunted house story in a thoroughly contemporary setting, Horrorstör comes packaged in the form of a glossy mail order catalog, complete with product illustrations, a home delivery order form, and a map of Orsk's labyrinthine showroom.