Hello all and welcome back to the July edition of the now-monthly Friday Fiction Feature! –Tabatha Hanly reporting from beyond the water (we are an international staff now, you know).
I wanted to build this week's theme around my big move and new job, but oddly I can't find enough cool fiction books about Teaching English as a Foreign Language. Who'd have thunk? So I'll just have to be content with the general idea of travel to bizarre places and times. We've got all kinds of vacations here: traveling for fun, fleeing the government, shopping for bon bons, or even a getaway to a bright and new school-away-from-school. We've got destination spots, dangerous classwork, and even some handy what-not-to-do's for the wary traveler.
Thus Was Adonis Murdered (Hilary Tamar #1) by Sarah Caudwell
Thus Was Adonis Murdered may have found the best possible reason to take a fast and expensive vacation: fleeing the IRS. (It sounds bad I know, but remember,  not everyone can move with motives as heroic and altruistic as a better paying job). Of course, a word to the wise: if one is planning to flee the local tax agency it may be prudent to first kick the accountant out of your car.
When her personal copy of the current Finance Act is found a few meters away from a body, young barrister Julia Larwood finds herself caught up in a complex fight against the Inland Revenue. Set to have a vacation away from her home life and the tax man, Julia takes a trip with her art-loving boyfriend. However, all is not what it seems. Could he in fact be an employee of the establishment she has been trying to escape from? And how did her romantic luxurious holiday end in murder?
The Mystery of the Clockwork Sparrow by Katherine Woodfine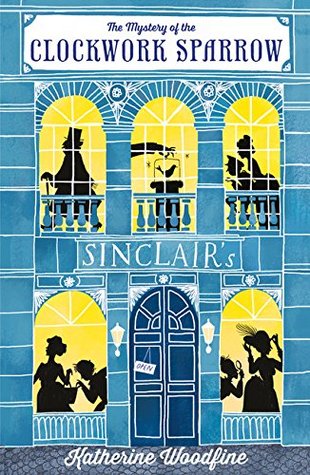 I nearly skipped past this next novel without a second glance, because if there is one place I absolutely don't want to go on my vacations, it's the mall. And so I was ready to flatly turn down the invitation to visit this particular department store–no matter how cordial–when I realized that it was a DASTARDLY mall. That's right. Dastardly. But in all capital letters. While I think Sinclair's is welcome to keep all of it's perfumes and hats, I will travel far and wide for the chance to see dastardly villains, learn what The Mystery of the Clockwork Sparrow is, and eat junk food all in one place. Who wouldn't?
You are cordially invited to attend the Grand Opening of Sinclair's department store!
Enter a world of bonbons, hats, perfumes and MYSTERIES around every corner. WONDER at the daring theft of the priceless CLOCKWORK SPARROW! TREMBLE as the most DASTARDLY criminals in London enact their wicked plans! GASP as our bold heroines, Miss Sophie Taylor and Miss Lilian Rose, CRACK CODES, DEVOUR ICED BUNS and vow to bring the villains to justice…
Zombie, Ohio (Zombie #1) by Scott Kenemore
Someday, dear readers, I will stop showcasing books about zombies. Really, someday I will. But today is not that day.
Consider this next selection a destination novel. Rather than show you what it's like to pick up and move around the world, this novel gives you a place you might like to go. Certainly you've seen books before which highlight the lovely sights, the interesting spots, and the friendly people in such-and-such a place? Well, Zombie, Ohio will take you on a pleasant journey through this small town. It will introduce you to the locals, enmesh you in the rural way of life, show you the problems and successes of the citizens as they go really back to basics. It will even show you the city's prestigious university, and especially it's very talented staff. (Note…our esteemed editor, Dr. Schillace, is from Ohio…)
When rural Ohio college professor Peter Mellor dies in an automobile accident during a zombie outbreak, he is reborn as a highly intelligent (yet somewhat amnesiac) member of the living dead. With society crumbling around him and violence escalating into daily life, Peter quickly learns that being a zombie isn't all fun and brains. Humans—unsympathetic, generally, to his new proclivities—try to kill him at nearly every opportunity. His old friends are loath to associate with him. And he finds himself inconveniently addicted to the gooey stuff inside of people's heads. As if all this weren't bad enough, Peter soon learns that his automobile accident was no accident at all. Faced with the harrowing mystery of his death, Peter resolves to use his strange zombie "afterlife" to solve his own murder.
Skillfully combining the genres of horror, humor, and film noir, Zombie, Ohio weaves an enthralling and innovative tale that any fan of the current zombie craze is sure to relish. Followers of detective and horror fiction alike will find something to love about Zombie, Ohio—a tale of murder, mystery, and the walking dead.
Eternal Vows (The Ruby Ring #1) by Chrissy Peebles
Consider this book your "What Not To Do" of travel, romance, and really everything. Here at the FFF we encourage travel, fun, and adventure. We want you to see the world, to meet new people, to read new books. But we also want you to be safe. So we're using Eternal Vows to illustrate a few key no-nos for your next adventure.
First off–lying about who you are on an adventure is a tricky question: certainly if you are a peasant boy or from the future, lying is fun and often necessary; however pretending to be royalty may be pushing your luck. A lot.
The next piece of advice from Eternal Vows is crucial, and honestly one you should have learn way back when you read fables and recited nursery rhymes: don't marry the first hottie you see! They almost always turn out to be some manner of warlock, sea-witch, toad, or inter-dimensional demon. This one shouldn't be tough: if you wouldn't marry the first dating-site match, why would you tie the knot with the first fairy king you meet?
Finally, we have a two-fold piece of advice. #1 Don't take jewelry that wasn't already yours and even then, it's a bit iffy. You know what? Just don't touch anything sparkly. #2 As any D&D player can tell you, never, never, never muck about with unknown magical items! It's just bad business and a great way to end up with fish arms or a rain of baguettes. For a more thorough run-down on bad ideas for other-worldly travels, finish up Eternal Vows.
Sarah Larker returns to a cave where her sister disappeared ten years earlier. She walks through a portal and is mistaken for a runaway princess on the run by a dangerous immortal king in medieval times. Her plan is bold as well as daring-become this princess, wed the king, and slip on an ancient wedding ring that will unlock the portal back home. Then find her sister and run as fast as she can out of Dodge. But taking on the identity of Princess Gloria comes along with dangerous consequences; and slipping on the ruby ring comes with an even higher price.
The Assassination Game (Star Trek: Starfleet Academy #4) by Alan Gratz
Our last featured book of the day takes us into The Final Frontier! (Where frankly many men and women have gone by now). Because all things do seem to come back around to where they started on the FFF, even going beyond the reaches of our galaxy still can't take us away from school, because The Assassination Game is the thrilling tale of how Cadets Kirk and Bones learned to take out dangerous enemies on campus with a spork! Wait, no…that can't be… Nope it is. A spork. Well. I guess it's important to be proficient with all manner of weapons before heading out into the dark and dangerous realms of outer space. Hmmmm…I for one sincerely hope Kirk has to face down one of the real dangerous enemies armed with nothing but his wits and a spork. Now that's a hero I could get behind…far behind…hopefully far enough behind that the enemy's real weapon can't reach me just in case the spork isn't enough.
The rules are simple: Draw a target. Track him down and kill him with a spork. Take your victim's target for your own. Oh, and make sure the player with your name doesn't get to you first. No safe zones. No time-outs. The game ends when only one player remains. James T. Kirk is playing for fun. Leonard (Bones)McCoy is playing to get closer to a girl. But when a series of terrorist attacks rock the usually placid Starfleet Academy campus, it becomes clear that somebody is playing the game for real. Is it one of the visiting Varkolak, on Earth to attend an intergalactic medical conference? Or could it be a member of a super-secret society at the Academy dedicated to taking care of threats to the Federation, no matter what rules they have to break to do it? Find out in The Assassination Game, the fourth installment in Spotlight's exciting series for teens.