Hello all and welcome back to the Friday Fiction Feature!
Sorry for the long delay in posts, but your series editor Tabatha has been busy graduating & getting ready to move far far away. Now that I'm back with a new job in a new country, we're on a new schedule–the Friday Fiction Feature will now be coming to you only once a month.
In the meantime, I have been experimenting with a state wholly unknown to all graduate students–applied laziness (over more than 30 minutes). The secret? BOOKS! I have been reading books! For fun! (Yes, yes, I know that's rather the point of the FFF, but all the students/academics out there can explain how rare and impressive that is). And so, with a renewed appreciate for how awesome it is to be able to sit back and read, I am back to bring you a few more suggestions for your studiously lazy days.
______________________________________________________________
The Accidental Highwayman: Being the Tale of Kit Bristol, His Horse Midnight, a Mysterious Princess, and Sundry Magical Persons Besides (Adventures of Kit Bristol #1) by Ben Tripp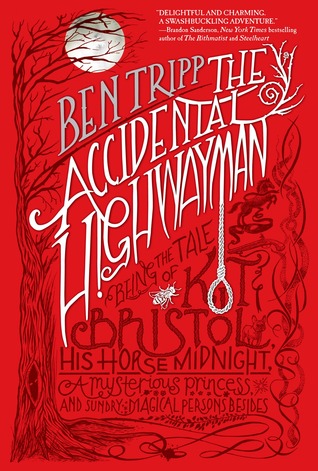 The first book on the list is one that means a lot to me because I only survived graduate school by narrow margin, by which I mean I very nearly ran away to become a pirate about once a week. By getting to fight monsters, fate, magic, and a rebellious princess, Kit Bristol the Accidental Highwayman is very literally living the dream.
In eighteenth-century England, young Christopher "Kit" Bristol is the unwitting servant of notorious highwayman Whistling Jack. One dark night, Kit finds his master bleeding from a mortal wound, dons the man's riding cloak to seek help, and changes the course of his life forever. Mistaken for Whistling Jack and on the run from redcoats, Kit is catapulted into a world of magic and wonders he thought the stuff of fairy tales.
Bound by magical law, Kit takes up his master's quest to rescue a rebellious fairy princess from an arranged marriage to King George III of England. But his task is not an easy one, for Kit must contend with the feisty Princess Morgana, gobling attacks, and a magical map that portends his destiny: as a hanged man upon the gallows….
Nine Kinds of Naked by Tony Vigorito
No, this one will not be another description of how I spent my lazy days. (Given teh title, that's an important promise). This next book is up mostly for a small tangent. In the following summary you will read the description of what sounds like the world's sturdiest secret society. I cannot draw my mind away from the image of a cult whose motto is "walk away." This must be the most-populous and longest-lived cult ever formed (allowing for the lowered intake of new members, because it doesn't have the razmatazz of a cult that actually does something…) because these walk-awayers will never summon a demon (and if they do, I suspect they will promptly find themselves out of its immediate range), they will never incurr the wrath of gods, district attorneys, or impossibly effective mourners-after-the-sacrificed. They will, effectively, be the safest cult ever formed. So if you want the mystique of being in a secret society without all the danger or derring-do of actually being involved in anything at all, Nine Kinds of Naked has just the cult for you!
Join cult favorite Tony Vigorito in his acclaimed, surreal whirlwind of a novel exploring chaos theory. A prisoner spins a playing card into a somersault, stirring a wind that becomes a tornado that takes off the roof of a church in nearby Normal, Illinois. Elizabeth Wildhack is born in that church and someday she will meet that prisoner, a man named Diablo, on the streets of New Orleans—where a hurricane-like Great White Spot hovers off the coast. But how is it all interconnected? And what does it have to do with a time-traveling serf and a secret society whose motto is "Walk away?"
"Chaos theory says that a tiny, almost imperceptible event can have large, even catastrophic coincidences: a butterfly flapping its wings in North America leads to a hurricane on another continent, for example. In this fictional take on chaos theory, several offbeat characters are linked by a single event that expands through time, sweeping them up in it and changing their lives. A traveler works a nifty trick with a playing card, and a tornado strikes a small Illinois town; a woman is born during the tornado and later meets the man who set it in motion; 1,200 years earlier, a man who is supposed to be stoned to death discovers he has an uncanny knack for surviving; and, back in the present day, another man speaks only in the present tense. Comparisons of this novel to the works of Tom Robbins are both obvious and appropriate: the story meanders around in an entertaining manner, never getting too serious about itself; the characters are splendidly loopy, close to caricature but never quite reaching it, and the situations in which they find themselves are comic, dramatic, and everything in between." —Booklist
Utterly Monkey by Nick Laird
With a severe turn careerwise, Utterly Monkey gives us a thorough path of what to avoid, and what to seek out as we (this being graduation season and all) move away from school (and hopefully our parents' houses) and towards our dream jobs. Or our close-enough jobs. Or just any job at all really.
It seems Danny Williams has made the mistake many a recent graduate has stumbled into–he accidentally became a lawyer, yes, this is….wait, what? Accidentally became a….let's see…college, law school, the bar exam… yeah… sure, who couldn't accidentally stumble into that kind of thing… right.
Oh well. Maybe this book can teach me how to stumble into a high-paying job. "Accidentally"
Danny Williams didn't mean to be a lawyer, but somehow he is — and for up to eighteen hours a day. He's well paid, home owning, and twenty-seven but is also overworked, lonely, and frequently stoned. The plan was to leave the troubles of a small town in Northern Ireland for the big city in England, but one evening an old school friend, Geordie, bursts into Danny's shiny new life. On the run from a Loyalist militia, Geordie brings everything Danny thought he had left behind and dumps it on his doorstep.
With infectious wit and energy to burn, Utterly Monkey is a searing, fiercely funny, and ultimately redemptive novel about surviving an office job, outwitting the bad guys, and, hopefully, getting the girl.
At the Villa of Reduced Circumstances (Portuguese Irregular Verbs #3) by Alexander McCall Smith 
Mystery buffs will be familiar with the this-can't-be-right-something-must-be-wrong beginning to an investigation. Just the other day I was listening to a mystery where a tone-deaf man hired a detective because someone had hired him as a tuba player, and the devoted musician just knew there could be to legal reason to pay him to play a tuba at a room of unsuspecting listeners. Well, At the Villa of Reduced Circumstances has brought this musical plot into the world of letters and joined together mystery and academe in a way many a published author has dreaded.
In At the Villa of Reduced Circumstances, Professor Dr. von Igelfeld gets caught up in a nasty case of academic intrigue while on sabbatical at Cambridge. When he returns to Regensburg he is confronted with the thrilling news that someone from a foreign embassy has actually checked his masterwork, Portuguese Irregular Verbs, out of the Institute's Library. As a result, he gets caught up in intrigue of a different sort on a visit to Bogota, Colombia.
Hooked on Murder (Crochet Mystery #1) by Betty Hechtman
My more observant readers will probably know that I have a special weakness for cozy mysteries. Inspired by the original Miss Marple (despite Dame Christie's absolute refusal to give me all the clues!) and moving on to dozens of other set-in-a-small-town, everybody-is-nice-and-a-suspect-and-lying-about-everything, with the necessary inexplicable-importance-of-sewing-or-cooking-to-the-plot, with a mystery which absolutely must be solved by the unassuming-cook/seamstress/old lady/generally innocent _______. On the FFF I get to see all of these opportunities to integrate a real and intriguing mystery into my life in books like Hooked on Murder, without (apparently) having to interrupt my social life at all! Unfortunately, I have yet to become innocently embroiled in a dire mystery that threatens the peacefulness of my small town. I'm beginning to worry that it'll take until I'm gray-haired and surrounded by cats and baked goods before I'll get a cozy mystery of my own. Oh well, I guess all I can do now is move to a small town, get far to many pets, take up baking, and hope for the best…or do I mean worst?
Craft lovers and mystery readers alike will flock to this great new craft-based cozy with a delicious recipe and crochet pattern included!
When bookstore event coordinator Molly Pink stumbles across the dead body of a crochet group's leader, her complicated past with the woman makes her a prime suspect.
But while Molly's fending off a detective with a personal grudge and navigating the pitfalls of crochet group politics, the real killer remains at large. And it's up to her to catch the culprit before she winds up in a tight knot.