Hello readers, Tabatha here with a big welcome back to the Friday Fiction Feature. It's no secret that I am finishing up my last year of graduate school, and in fact, I expect to be graduating this May!  (PS: I have found that people don't mind if you read a book all through the ceremony so long as you aren't sitting front and center in a doofy hat). Anyways, as I sit back and count down the days to NO HOMEWORK EVER AGAIN, I realize that the 49 days between then and now are filled with a great deal of homework indeed! (Just two graduate papers,  a presentation on Sense and Sensibility and Sea Monsters, and the dreaded Graduate Portfolio. Just.) And so, like any reasonable student with this much work and these few days, I have been entertaining the thought of running away. Far away. Where the homework can't catch me.
______________________________________________________________
Glazed Murder (Donut Shop Mystery #1) by Jessica Beck
I have posted before on some possible career options for academics, but sadly most of those adventuring academics have degrees, so if I am going to flee, I'll need a new set of options. After a recent visit to a local bakery, I have decided that I could run away to a bakery! Just think of it, you could spend your days surrounded by the smell of fresh baked bread. You could eat gooey cookies right out of the oven. And (perhaps best of all) you can trade in grumpy coworkers and disinterested students for happy customers! Since I'm pretty sure it's physically impossible to be grumpy in the presence of pastry, almost everyone you see will have a guaranteed good mood! It's a job to die for…or maybe kill for? Suitably enough our first book of the day, Glazed Murder, is the story of a woman who dropped what she was doing to run away and open up a baked-goods shop! (See, I told you it was a good plan!)
Meet Suzanne Hart, owner and operator of Donut Hearts coffee shop in April Springs, North Carolina. After her divorce from Max, an out-of-work actor she's dubbed "The Great Impersonator," Suzanne decided to pursue her one true passion in life: donuts. So she cashed in her settlement and opened up shop in the heart of her beloved hometown.
But when a dead body is dumped on her doorstep like a sack of flour, Suzanne's cozy little shop becomes an all-out crime scene. Now, everyone in town is dropping by for glazed donuts and gruesome details. The retired sheriff warns her to be careful—and they're all suspects. Soon Suzanne—who finds snooping as irresistible as donuts—is poking holes in everyone's alibis…
A Peach of a Murder (Fresh-Baked Mystery #1) by Livia J. Washburn
At first I was tempted to say that A Peach of a Murder seemed a rather violent way to go about making pies, but  it seems that if there's any thing all this…we'll call it research…has taught me, it's that baking can be a dangerous business. And not just from the usual danger of trying to eat a hockey-puck of a cookie or the less usual danger of mistaking gnat poison for vanilla. Who knew trying to bake drew so many enemies? Oh well, at least if I do run away from school I'll know there won't be much competition.
All year round, retired schoolteacher Phyllis Newsom is as sweet as peach pie-except during the Peach Festival, whose blue ribbon has slipped through Phyllis's fingers more than once…Everyone's a little shook up when the corpse of a no-good local turns up underneath a car in a local garage. But even as Phyllis engages in some amateur sleuthing, she won't let it distract her from out-baking her rivals and winning the upcoming Peach Festival contest. She and all the other contestants guard their secret, original recipes with their lives-and talk a whole lot of trash. With her unusual Spicy Peach Cobbler, Phyllis hopes to knock 'em dead. But that's just an expression-never in her wildest dreams did she think her cobbler would actually kill a judge. Now, she's suspected of murder-and she's got to bake this case wide open.
Brownies and Broomsticks (A Magical Bakery Mystery #1) by Bailey Cates
Adding a little more…spice… to the list is Brownies and Broomsticks, the thrilling tale of bakers who mean it when they say their cupcakes are baked with love. Or jealousy. Or the cure for your rash. (Also this one gets a few more points for it's title–on that note, A Sheetcake Named Desire, The Long Quiche Goodbye are available as well).
EASY BAKE COVEN 
Katie Lightfoot's tired of loafing around as the assistant manager of an Ohio bakery. So when her aunt Lucy and uncle Ben open a bakery in Savannah's quaint downtown district and ask Katie to join them, she enthusiastically agrees. While working at the Honeybee Bakery—named after Lucy's cat—Katie notices that her aunt is adding mysterious herbs to her recipes. Turns out these herbal enhancements aren't just tasty—Aunt Lucy is a witch and her recipes are actually spells! When a curmudgeonly customer is murdered outside the Honeybee Bakery, Uncle Ben becomes the prime suspect. With the help of handsome journalist Steve Dawes, charming firefighter Declan McCarthy, and a few spells, Katie and Aunt Lucy stir up some toil and trouble to clear Ben's name and find the real killer..
Bliss (The Bliss Bakery #1) by Kathryn Littlewood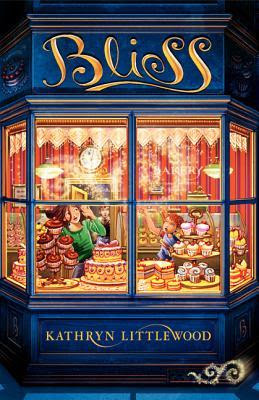 Bliss brings us another magical bakery, this time with magical recipies that have been passed down from generation to generation of…apparently of stodgy parents who refuse to let anyone play around with the magic! (What party poopers). That is, until the arrival of the troublemaking witch who's going to fix all of this 'responsibility' nonsense. Also, this book paints a picture of the woman I want to be in 50 years "a mysterious stranger…[who] rides a motorcycle, wears purple sequins, and [can't cook at all]" (I mean going to graduate school in itself has declared me a bit of a crazy lady, why not go all the way?)
Rosemary Bliss's family has a secret. It's the Bliss Cookery Booke—an ancient, leather-bound volume of enchanted recipes like Stone Sleep Snickerdoodles and Singing Gingersnaps. Rose and her siblings are supposed to keep the Cookery Booke under lock and whisk-shaped key while their parents are out of town, but then a mysterious stranger shows up. "Aunt" Lily rides a motorcycle, wears purple sequins, and whips up exotic (but delicious) dishes for dinner. Soon boring, non-magical recipes feel like life before Aunt Lily—a lot less fun.
So Rose and her siblings experiment with just a couple of recipes from the forbidden Cookery Booke. A few Love Muffins and a few dozen Cookies of Truth couldn't cause too much trouble . . . could they? Kathryn Littlewood's culinary caper blends rich emotional flavor with truly magical wit, yielding one heaping portion of hilarious family adventure.
Sense and Sensibility and Sea Monsters by Ben H. Winters & Jane Austen
I felt the need to tack this one on at the end because as wonderful as it sounds to surround myself with the smell of fresh bread, etc., I am still an English major at heart. And so I must admit that if Quirk Classics would have me, I'd be off like a shot to make something like Sense and Sensibility and Sea Monsters or Horrorstor in between loaves. I could spend my days composing the craziest, silliest mash-ups possible, and maybe even get paid (instead of my usual "Tab you're weird" eye rolls). I'm thinking Tolstoy + 1960's B-movie grade horror? Now that sounds like a fun way to use my English degree(s).
A new tale of romance, heartbreak, and tentacled mayhem.
Sense and Sensibility and Sea Monsters expands the original text of the beloved Jane Austen novel with all-new scenes of giant lobsters, rampaging octopi, two-headed sea serpents, and other biological monstrosities. As our story opens, the Dashwood sisters are evicted from their childhood home and sent to live on a mysterious island full of savage creatures and dark secrets. While sensible Elinor falls in love with Edward Ferrars, her romantic sister Marianne is courted by both the handsome Willoughby and the hideous man-monster Colonel Brandon. Can the Dashwood sisters triumph over meddlesome matriarchs and unscrupulous rogues to find true love? Or will they fall prey to the tentacles that are forever snapping at their heels? This masterful portrait of Regency England blends Jane Austen's biting social commentary with ultraviolent depictions of sea monsters biting. It's survival of the fittest—and only the swiftest swimmers will find true love!