One time-honored tradition of the beginning of a new year is the "Where are they now?" when television hosts and internet writers track down formerly well-known celebrities and remind us all that they're still alive. We at the Fiction Reboot have decided to take part in this annual reminder with a literary bent and show our dear readers a glimpse of their favorite characters; what they have been doing, what challenges have they faced, what monsters have they slaughtered. With tales varying from the chipper to the catastrophic, we invite  you all to read on and find out Where are they now?
______________________________________________________________
Pinocchio by Michael Morpurgo & Emma Chichester Clark 
To start off our first entrant, we'll let our protagonist tell us not only where he is now, but how he got there. This Pinocchio is the tale of the puppet who never got to be a real boy, told by the little liar himself. Here you can find out why on earth he thought the trip to Pleasure Island was a good idea and the proper etiquette for not tripping on your own strings.
Pinocchio as you've never seen him before: telling his own story through the master storyteller and award-winning author of War Horse.
"Now – there's no point in pretending here – I was, and still am deep down, a puppet. Everyone knows Pinocchio is a puppet. I reckon I must be just about the most famous puppet the world has ever known. But the truth is I'm not just a puppet, I'm more than just bits of wood and string. I'm me. So I thought it was about time that I, Pinocchio, told you my story…"
Michael Morpurgo channels Pinocchio's words to tell the famous puppet's story in his own inimitable, cheeky and always funny way. Lavishly illustrated throughout in black-and-white by the acclaimed Emma Chichester Clark, this is a must-have for all book lovers, and an utterly charming and surprising adaptation of a much-loved tale.
Pinocchio, Vampire Slayer (Pinocchio, Vampire Slayer #1) by Van Jensen & Dusty Higgins
Unfortunately, after this more lighthearted tale, Pinocchio's life took a dreadful turn. He learned some hard lessons on Pleasure Island, but that was nothing compared to the changes he had to undergo to become Pinocchio, Vampire Slayer. 
After seeing Geppetto die at the hands of vampires, Pinocchio swears revenge in this darkly funny graphic novel. As the vampires plot the enslavement of mankind, only a one-puppet army stands in their way. But will a wooden boy and his endless supply of stakes – courtesy of plenty of lies and his elongating nose – be enough to save the day?
I Am Scrooge: A Zombie Story for Christmas by Adam Roberts
Perhaps our most chilling 'where are they now' is I Am Scrooge: A Zombie Story for Christmas. This epilogue follows Scrooge after his fateful Christmas night, after he has become a good and cheerful man, after he has been accepted warmly into his community, and after his community has begun salivating over his warm brain. This contribution to the "and zombies" genre maintains the original's focus on right and wrong and turning Scrooge's moral compass towards the good of the community, whether he wants to or not.
The legendary Ebenezeer Scrooge sits in his house counting money. The boards that he has nailed up over the doors and the windows shudder and shake under the blows from the endless zombie hordes that crowd the streets hungering for his flesh and his miserly braaaaiiiiiinns! Just how did the happiest day of the year slip into a welter of blood, innards, and shambling, ravenous undead on the snowy streets of old London town? Will the ghosts of Christmas Past, Present, and Future be able to stop the world from drowning under a top-hatted and crinolined zombie horde? Was Tiny Tim's illness something infinitely more sinister than mere rickets and consumption? Can Scrooge be persuaded to go back to his evil ways, travel back to Christmas past, and destroy the brain stem of the tiny, irritatingly cheery Patient Zero?
The Last of the Spirits by Chris Priestley
Of course, Scrooge's moral quandary may never come to pass, if the ghosts that tormented him cannot convince someone else. In The Last of the Spirits we find what may well be the last chapter in Scrooge's ever-changing story and an unequivocal answer to 'where is he now?' When his miserliness becomes too extreme, Scrooge's fate falls out of his own hands and even the heroics of fighting in the zombie takeover cannot redeem him again, as he finds out why that gravestone the Ghost of Christmas Yet to Come showed him had such an early date on it.
Sam and Lizzie are freezing and hungry on the streets of Victorian London. When Sam asks a wealthy man for some coins, he is rudely turned away. Months of struggle suddenly find their focus, and Sam resolves to kill the man. Huddling in a graveyard for warmth, Sam and Lizzie are horrified to see the earth around one of the tombs begin to shift, shortly followed by the wraithlike figure of a ghostly man. He warns Sam about the future which awaits such a bitter heart, and so begins Sam's journey led by terrifying spirits through the past, present and future, after which Sam must decide whether to take the man, Scrooge's, life or not.
The Land of Green Ginger by Noel Langley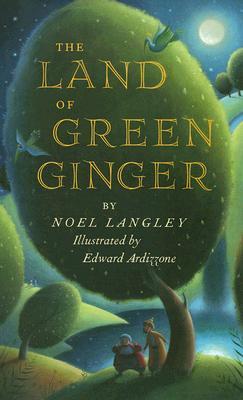 We'll end our look into the epilogues of our favorite characters with the most upbeat edition (unless you count the heroics of quashing a monster uprising as a happier ending). The Land of Green Ginger will catch you up on the lives of the entire Aladdin crew; from the eponymous carpet-flyer himself to the freed genie and into the second generation, you can learn what happened to each beloved character. The author has even thrown in an adventure with magic and incompetent wizards to fill in all those empty spaces between catching us up in our most complete 'where are they now'.
This beloved classic is a funny, clever, and original novel that opens with Aladdin, now Emperor of China, trying to decide what to name his new son, a child who won't stop talking and is already far too articulate for his own good. The Genie of the Lamp announces that Abu Ali should be the child's name and that his destiny is to rescue the magician who created The Land of Green Ginger (a sort of fabulous floating garden) and then turned himself into a Button-Nosed Tortoise by mistake. Abu Ali is told he is the only one who can find the peripatetic island, locate the Button-Nosed Tortoise and reverse the spell. And so begins a series of adventures that invoke a memorable cast of characters, some despicable, some feckless and some (no surprise) beautiful and feisty. It's all here – Flying Carpets, Green Dragons, Magic Phoenix Birds, Boomalakka Wee, the dysfunctional infant son of the Genie of the Lamp, the displaced mouse who was supposed to have been a donkey, even Omar Khayyam himself… adding up to a fantastical tale of adventure and mayhem, fabricated by the screenwriter of The Wizard of Oz and illustrated by the inimitable and beloved Edward Ardizzone.