Hello all and welcome back to the Friday Fiction Feature with series editor Tabatha Hanly! It's a busy time here at FFF headquarters. Winter has just decided to kick itself into full-gear, I've barely finished with Christmas, classes start again in less than a week! I'm going to need a sick day on the first day back, and I'm becoming more and more sure the correct solution to all of these problems is hiding under the covers! So for your perusal, here's a stack of books on the weather, romance, sick days, dinosaurs, and monsters which just might join me in my totally-grown-up blanket fort until I give in and go back to work.
______________________________________________________________
It's So Cold in Minnesota… by Bonnie Stewart and Cathy McGlynn
As you know, I'm stuck in the frozen tundra of MN which, after a few (relatively) warm weeks, has refrozen itself and me in the process. And so I have (like any sensible Minnesotan) chosen to deal with this by hiding under the covers in my warmest pjs because  anything short of rolling yourself into a blanket burrito with a mug of hot chocolate is too cold. Some similarly-minded authors have recognized this and written It's So Cold in Minnesota to
share our…wonderful season with the rest of you who don't consider snow pants a normal winter fashion.
Minnesota is known for its cold winters. To stay warm, two women compiled some of their favorite quips and quotes. They wanted to share with the world the crazy, wacky things people do and say when the temperature is -208 F for weeks at a time.
A Timeless Romance Anthology: Winter Collection by Sarah M. Eden, Heidi Ashworth, Annette Lyon, Joyce DiPastena, Donna Hatch, and Heather B. Moore
To contrast It's So Cold in Minnesota's vision of a northern winter, we've got the Winter Collection to put on a more romantic spin. In these stories the winter tends to be just a lovely, or inconvenient, backdrop to the story. A blizzard traps a couple-to-be together, there are beautifully wrapped presents, and the snow is always lovely and you can see your sweetheart's breath as s/he says something romantic. Well, the I-hate-the-cold-grinch (me) is here to tell you: Bunkum! Being trapped in a blizzard with your sweetie means you get to play rock-paper-scissors to see who has to shovel a way out through the snow, and while it may sound nice to say something lovely about the snow on your sweetie's eyelashes, I promise you the most romantic thing you can say when your breath is visible is "There's a mug of hot coco in front of the big warm fire, all for you." But in case you want to pretend winter isn't just awful, I offer up this collection of the nicer side of sub-zero temperatures (see, you can't even make that sound nice when you're trying!).
Six Award-Winning Authors have contributed brand new stories to A Timeless Romance Anthology: Winter Collection. A collection unlike any other, readers will love this compilation of six sweet historical romance novellas, set in varying eras, yet all with one thing in common: Romance.
The Sick Day Handbook: Strategies And Techniques for Faking It by Ellie Bishop
As much as I like to complain about the cold, there are more things afoot in this small town. For example, a quick glance at my calendar revealed that the week and a half I believed were left before I had to go back to school is actually a short five days. Aaaaaah! This startling development (also a real cold) has led to one pressing question: can the teacher take a sick day on the first day of class?
We've all been there. The alarm goes off, and the thought of your morning commute, a buttoned-up shirt, and e-mail makes you want to cry. You don't want to go to work—YOU CAN'T. So what's a 9-to-5er to do? KISS: Keep it Simple, Sickie. "I'm (sniffle) not feeling well, got this scratchy feeling in my throat (cough), think it'd be best for me to sit this one out, boss." Click. Congratulations, you just called in sick and were lying through your down comforter about it. Ahh, the thrill of deceit! Let's be honest—at least briefly. Sometimes you just need a day. The Sick Day Handbook is your guide to freedom. In Ellie's words, "This is a course in manipulation . . . This is about lying." Anyone who reads to "the end" and follows Bishop's creative instructions will have earned their DDD: Doctor of Downright Devious. Filled with symptoms and prescriptions for common illnesses and proper stage-setting techniques to pull off the previously unthinkable Tuesday-after-a-long-weekend call-in (your pregnant friend had the baby!), you'll have a pool of credible excuses just waiting to be used (scripts included). If you thought it couldn't get any better—well, read on. Your boss will think you are such a moral person (what a doll . . . taking care of your elderly neighbor and her 3-legged cat all the while suffering from Vertigo and an IBS flare-up) he'll practically beg you to take a day off! So what are you waiting for, nervous dialers? Get your slippers on—daytime television awaits you. Learn our tricks and no one will ever doubt your "flu" again!
(P.S. To any 111 students reading this: Don't even think about it. Hookey is for teachers only!)
PhD: Phantasy Degree, Vol. 1 by Son Hee-Joon
While I have no immediate plans to get a PhD, the challenge of doing something awesome (like a nobel prize or world domination) still beckons, and leads us to today's final contribution: PhD: Phantasy Degree. I know most of the FFF's how-to-do-something-awesome days have tended towards monster slaying, but it's important to remember that every story has two sides, and that learning to be a monster sounds really cool! The market for advanced degrees seems to be thinning in recent years, but I put it to you that maybe this is simply because most PhD & Master's programs are woefully lacking in supernatural hijinks. (I might even be willing to overlook that spelling error if it means I get to reprimand a demon for cutting class).
Sang is a fearlessly spunky young girl in search of the Demon School Hades. Fortunately for her, she comes across a group of misfit monsters that are ditching class from the Demon school. She convinces them to sneak her into the class that normally only allows monsters to attend. Mystery, intrigue and high jinks unfold as Sang finds a way to become a monster–and begins a fantastic adventure in a devilish domain!
Jurassic Park by Michael Crichton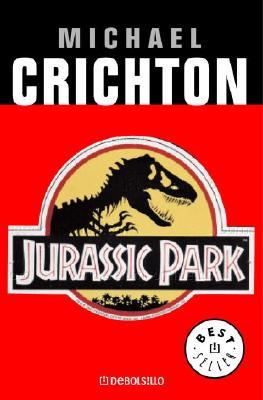 Now, after the realization that I have to go back to school (way too) soon, I was going to (try to) say something deep about finishing up my last semester, getting this second degree, etc. And as I was searching for a book to illustrate these (probably) deep and insightful thoughts, the website spat out a pile of textbooks, and Jurassic Park. Now some people might see this and move on (quitters), but I prefer to see this unexpected result as a challenge! If one  scientist (huge team of scientists) with advanced degrees could make Jurassic Park, then just think what I can do with my advanced degree! Now, unfortunately my English Lit & Lang program did not really prepare me for reviving entire terrifying species, building doomsday devices, or taking over the world via traditional means (tsk tsk WSU), So I'll just have to get more creative.
An astonishing technique for recovering and cloning dinosaur DNA has been discovered. Creatures once extinct now roam Jurassic Park, soon-to-be opened as a theme park. Until something goes wrong…and science proves a dangerous toy.