Hi all and welcome back to the Friday Fiction Feature! We have a very festive feature for you today. All the holidays I (with The-All-Knowing-Google's help) could think of for the rest of the year! Dig out your party hats and broadswords, because we've got candles, goblins, spies, frigid winters, the dream of some real heat, and (most importantly) Presents!
_____________________________________________________________
Solstice by P.J. Hoover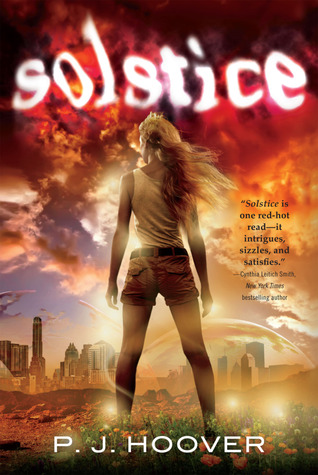 First, we'll start of with a non-religion specific holiday: the Winter Solstice. Not typically considered a holiday, the Winter Solstice is an important one, and, I argue, one which deserves much more celebration. Think about it: the Winter Solstice marks the shortest day of the year. Since the end of summer our days have been getting shorter and shorter, colder and colder. But, the Solstice marks the days when they start stretching out again. The days start getting longer because the sun is visible longer, the more sun we get, the warmer it gets, the warmer it gets the sooner I can feel my toes again! I say we start paying more attention to the solstice: the day which marks the (slow, so very slow) return of heat!
To start us off thinking warm thoughts, here's Solstice, a story centering on the heat we've all been dreaming of! (Granted the heat is a byproduct of an apocalypse, but you know what, after more than two decades of Minnesotan winters, well…)
Piper's world is dying.
Each day brings hotter temperatures and heat bubbles that threaten to destroy the earth. Amid this global heating crisis, Piper lives under the oppressive rule of her mother, who suffocates her even more than the weather does. Everything changes on her eighteenth birthday, when her mother is called away on a mysterious errand and Piper seizes her first opportunity for freedom.
Piper discovers a universe she never knew existed—a sphere of gods and monsters—and realizes that her world is not the only one in crisis. While gods battle for control of the Underworld, Piper's life spirals out of control as she struggles to find the answer to the secret that has been kept from her since birth.
Hershel and the Hanukkah Goblins by Eric A. Kimmel & Trina Schart Hyman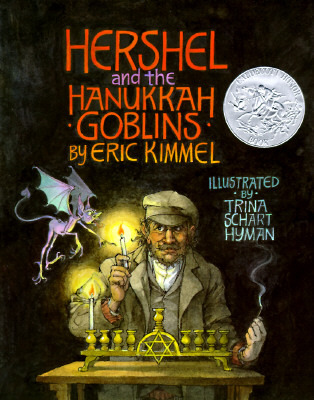 Hershel and the Hanukkah Goblins is a classic Hanukkah tale of the well-known hero Hershel who explains all the important traditions and customs of the holiday as he… Oh all right fine, this isn't a classic holiday tale, but come on! Goblins! Just think of it: you prepare for the holidays by bringing out your seasonally decorated broadsword, covered in holly and sharpened to a razor's edge, it is stored next to all the wrapping paper and goblin traps. You teach your kids Hanukkah carols like "Never forget to check under the house" and "Don't believe their lies." Or maybe they turn out to be friendly. Who knows. So long as there's goblins. (I just really want there to be an upbeat holiday with goblins..!)
A traveler rids a village synagogue of goblins. (See, that's all the description you get. Now don't you prefer my 'classic tale' version with "'Go Slay It On The Mountain" carols?)
Santa's Kwanzaa by  Garen Eileen Thomas & Guy Francis
I have always believed that everyone, no matter their race, religion, location, whatever, should miss out on the opportunity to come into the family room on a Winter morning to open a box of socks. (Probably good presents too, but the socks seem more universal). Whether you celebrate Christmas, Hanukkah, Kwanzaa, or The Great Noodle Monster's half-birthday, why not mix some holiday-of-your-choice cheer with a pile of presents under whatever obnoxiously large living room decoration you like best!
In keeping with this philosophy, Santa's Kwanzaa features a man who is not often given many presents and who is too busy to celebrate most winter holidays, who is finally given the chance to celebrate! (Again, not the most in-depth exploration of the holiday, but I thought Santa deserved to celebrate a fun holiday himself once in a while!)
Santa Claus returns from a long night of delivering Christmas presents to find a Kwanzaa surprise at his North Pole home.
New Year's Bloody Eve by J.M. Barlog
Who says Halloween gets to monopolize all of the horror? Halloween, summer camp, dark and stormy summer nights. Pshaw. You know what would be really impressive? Running away from the serial killer in three feet of snow. Instead of having to sneak back in the house to get your cell phone or girlfriend, making that risky run for something useful like the pair of snowshoes you forgot inside. No one ever gets the opportunity to hide from the maniac behind a snow drift or cleverly conceal themselves in a hastily made snowman. And I think Jack Torrance is the only one to be thwarted by improper winter clothes. That is, until now! Thanks to New Year's Bloody Eve, we finally get to see some off-season slaughter! (Sadly, I don't think there's any parka-wearing psycho in this book, but at least it's a step in the frigid direction).
It's all fun and games … until bodies start to disappear.
While home for the holidays from Stanford, Andrew throws a New Year's Eve bash for his girlfriend Julie and nine of their friends at a vintage Hollywood Hills mansion. The spacious old place provides a perfect venue to party hearty and catch up with old friends who have drifted apart.
But concern turns to fear when friends start inexplicably disappearing. Are they being punked by their friends? Or is there something very terrible happening here? Fear turns to terror when their innocent night of drinking and fun becomes a harrowing, desperate fight for survival. Can they hang on through the night? Will any of them live long enough to ring in the New Year?
The Heat of Ramadan (Ecktsein & Baum Trilogy #1) by Steven Hartov
Now, I'm not quite mean enough to leave you thinking about snow and sub-zero temperatures (also Google neglected to tell me the date for this one–come on Google, I was counting on you to make me look smart!), so we'll jump ahead a few months to a warm holiday!
Just think about it folks: all the snow has melted, there's no more biting wind, no more invisible ice-patches, no more shoveling. The Heat of Ramadan takes us through the beauty of a summer holiday. You can go outside, enjoy real sunshine, dodge bullets without getting a face full of snow, track down enemy agents without leaving footprints… Hmm. Suddenly the snow doesn't look so bad. Downright lovely.
The Heat of Ramadan is Hartov's first espionage novel and the opening salvo of a trilogy still in high demand today. Hailed as "a smashing debut" by Publishers Weekly, it introduces Israeli Military Intelligence officers Eytan Ecktsein and Benjamin Baum, in pursuit of the master terrorist Amar Kamil. Beginning with Eckstein's tragic assassination of the wrong man in Munich, the story races across the Continent as Kamil in turn hunts down every member of the Israeli team, finally culminating in a face-to-face struggle in Jerusalem. Best Selling author Jonathan Kellerman said: "This is no techno-thriller concocted by some armchair generalissimo. This is the real stuff."
Happy Holidays!