Hello and welcome to the Friday Fiction Feature! Tabatha here to remind you about the other half of the blog. That's right, it is once again time to recognize the Daily Dose and bring some of their medical fascination into our fiction-focused world here in the Fiction Reboot. This week we've got aesculapian lineup (10 points to anyone who didn't have to look that one up- I did) featuring medical mysteries ranging from real-life poisonings to cerebral plastic surgery with a woman doctor in disguise in between.
______________________________________________________________
Mistress of the Art of Death (Mistress of the Art of Death #1) by Ariana Franklin
What's more terrifying than a series of murders? than a race which has been castigated for hundreds of years? than a brand-new science based on doing what was recently called sacrilege and a crime? Mistress of the Art of Death takes readers back to the medieval times, it's less-than-admirable inter-cultural relations, and the very early days of autopsy to answer these questions with a resounding: "Of course, a woman doctor!" The novels merges a mystery in the earliest days of the science that would come to define murder investigations with the (I hope) humorous lengths the talented doctor must go to to hide the scandalous fact that she is (gasp!) female!
A chilling, mesmerizing novel that combines the best of modern forensic thrillers with the detail and drama of historical fiction. In medieval Cambridge, England, four children have been murdered. The crimes are immediately blamed on the town's Jewish community, taken as evidence that Jews sacrifice Christian children in blasphemous ceremonies. To save them from the rioting mob, the king places the Cambridge Jews under his protection and hides them in a castle fortress. King Henry II is no friend of the Jews-or anyone, really-but he is invested in their fate. Without the taxes received from Jewish merchants, his treasuries would go bankrupt. Hoping scientific investigation will exonerate the Jews, Henry calls on his cousin the King of Sicily-whose subjects include the best medical experts in Europe-and asks for his finest "master of the art of death," an early version of the medical examiner. The Italian doctor chosen for the task is a young prodigy from the University of Salerno. But her name is Adelia-the king has been sent a "mistress" of the art of death. Adelia and her companions-Simon, a Jew, and Mansur, a Moor-travel to England to unravel the mystery of the Cambridge murders, which turn out to be the work of a serial killer, most likely one who has been on Crusade with the king. In a backward and superstitious country like England, Adelia must conceal her true identity as a doctor in order to avoid accusations of witchcraft. Along the way, she is assisted by Sir Rowley Picot, one of the king's tax collectors, a man with a personal stake in the investigation. Rowley may be a needed friend, or the fiend for whom they are searching. As Adelia's investigation takes her into Cambridge's shadowy river paths and behind the closed doors of its churches and nunneries, the hunt intensifies and the killer prepares to strike again.
The Poisoner's Handbook: Murder and the Birth of Forensic Medicine in Jazz Age New York by Deborah Blum
While this book may not technically belong on the fiction reboot, it was just too cool to exclude. While our other contributions build mysteries on the science of detection in bygone eras to explore medicine, murder, & changing perspectives on both, The Poisoner's Handbook explores the real-life work of the poisoners who thought themselves smarter than the police and the forensic scientists who draw on the newest & most innovative techniques available to outwit the cleverest of their age's criminals and the laziest of it's chemists & cooks.
Deborah Blum, writing with the high style and skill for suspense that is characteristic of the very best mystery fiction, shares the untold story of how poison rocked Jazz Age New York City. In The Poisoner's HandbookBlum draws from highly original research to track the fascinating, perilous days when a pair of forensic scientists began their trailblazing chemical detective work, fighting to end an era when untraceable poisons offered an easy path to the perfect crime.
Drama unfolds case by case as the heroes of The Poisoner's Handbook—chief medical examiner Charles Norris and toxicologist Alexander Gettler—investigate a family mysteriously stricken bald, Barnum and Bailey's Famous Blue Man, factory workers with crumbling bones, a diner serving poisoned pies, and many others. Each case presents a deadly new puzzle and Norris and Gettler work with a creativity that rivals that of the most imaginative murderer, creating revolutionary experiments to tease out even the wiliest compounds from human tissue. Yet in the tricky game of toxins, even science can't always be trusted, as proven when one of Gettler's experiments erroneously sets free a suburban housewife later nicknamed "America's Lucretia Borgia" to continue her nefarious work.
From the vantage of Norris and Gettler's laboratory in the infamous Bellevue Hospital it becomes clear that killers aren't the only toxic threat to New Yorkers. Modern life has created a kind of poison playground, and danger lurks around every corner. Automobiles choke the city streets with carbon monoxide; potent compounds, such as morphine, can be found on store shelves in products ranging from pesticides to cosmetics. Prohibition incites a chemist's war between bootleggers and government chemists while in Gotham's crowded speakeasies each round of cocktails becomes a game of Russian roulette. Norris and Gettler triumph over seemingly unbeatable odds to become the pioneers of forensic chemistry and the gatekeepers of justice during a remarkably deadly time. A beguiling concoction that is equal parts true crime, twentieth-century history, and science thriller, The Poisoner's Handbook is a page-turning account of a forgotten New York.
*P.S. this "Handbook" does not count as one of our handy "How-to" contributions!
The Anatomy of Deception by Lawrence Goldstone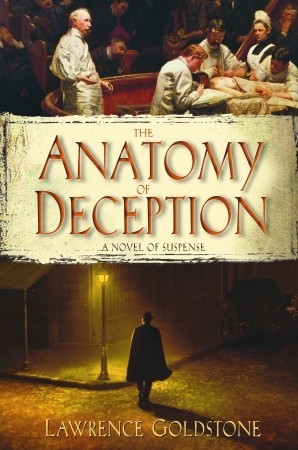 Perhaps our most medically-oriented fiction of the day, our next novel is another broaching the questionable nature of autopsy in a society more inclined to call it 'sacrilege' than 'science' and unsure if the doctor is really any better than the the criminal he finds. Wading through the moral morass of high society, low society, and medicine, The Anatomy of Deception uses science & psychology to unravel a mystery & unveil the dark secrets of a growing city and a soon-t0-be indispensable branch of medicine.
A mesmerizing forensic thriller that thrusts the reader into the operating rooms, drawing rooms, and back alleys of 1889 Philadelphia, as a young doctor grapples with the principles of scientific process to track a daring killer.
In the morgue of a Philadelphia hospital, a group of physicians open a coffin and uncover the corpse of a beautiful young woman. What they see takes their breath away. Within days, one of them strongly suspects that he knows the woman's identity…and the horrifying events that led to her death. But in this richly atmospheric novel–an ingenious blend of history, suspense and early forensic science–the most compelling chapter is yet to come, as young Ephraim Carroll is plunged into a maze of murder, secrets and unimaginable crimes….
Dr. Ephraim Carroll came to Philadelphia to study with a leading professor, the brilliant William Osler, believing that he would gain the power to save countless lives. As America hurtles toward a new century, medicine is changing rapidly, in part due to the legalization of autopsy–a crime only a few years before. But Carroll and his mentor are at odds over what they glimpsed that morning in the hospital's Dead House. And when a second mysterious death is determined to have been a ruthless murder, Carroll can feel the darkness gathering around him–and he ignites an investigation of his own.
Soon he is moving between the realm of elite medicine, Philadelphia high society, and a teeming badlands of criminality and sexual depravity along the city's fetid waterfront. With a wealthy, seductive woman clouding his vision, the controversial artist Thomas Eakins sowing scandal, and the secrets of the nation's powerful surgeons unraveling around him, Carroll is forced to confront an agonizing moral choice–between exposing a killer, undoing a wrong, and, quite possibly, protecting the future of medicine itself….
The Blood Doctor by Barbara Vine & Ruth Rendell
Now we've looked at murderers, scientists, doctors, and even prohibition bartenders, but now our narrator tells his tale from a very different perspective: the descendant of a man who may fit any or all of those other categories. Carrying us through the mystery with him as he uncovers each piece, The Blood Doctor's great-grandson slowly unravels the dark secrets of his own family with the literary version of peeking through your fingers: you cover your eyes because you know you don't want to see it, but you can't help but look regardless.
When Martin Nanther, Hereditary Peer in the House of Lords, is choosing the subject of his next biography, he becomes intrigued by the life of his own great-grandfather, Henry Nanther. So grateful was Queen Victoria for Henry's services as physician to the royal family that she granted him a peerage, making him a lord, the first doctor ever to be so honored. Henry had been especially attentive to hemophiliacs in the royal family, for he was obsessed with blood. As he recounted in his diary, "Red is my favorite color. To me a splash of blood is beautiful, and I profoundly lack understanding of those who flinch or even faint at the sight of it."
As his research deepens, Martin begins to uncover hints that his great-grandfather's fascination with blood may have had its darker side. The murder of Henry's fiancée, the death of his young son, the remarkable number of relatives and friends who died mysteriously—could all these have been mere coincidence? Martin scours England and America for relatives whose attics or memories might hold clues, until finally the tragic truth stands revealed.
Drawing from the dark themes of obsession and murder that drive so many of Barbara Vine's extraordinary novels, The Blood Doctor is also enriched by domestic intimacies familiar to readers of Ruth Rendell's beloved Inspector Wexford novels and by details of Dame Rendell's own experience as a Life Peer in the House of Lords. Once again we have a masterful work from a storyteller of the highest order.
The Island of Dr. Moreau by H.G. Wells
Finally, it seems fitting to end this iatric (again, 10 points to the smarty-pants who knew that one) list with one of the genre's pioneers- H.G. Wells and his tale of a doctor who managed to give animals the ability to speak English by performing plastic surgery on their brains in The Island of Dr. Moreau. So while we may begrudge Mr. Wells the misguided films which he inspired, I say hats off to the man who can set a novel on an island full of nightmare-inducing monsters and make his audience feel more sorry for the monsters than the poor bastard who got himself stranded there.
Ranked among the classic novels of the English language and the inspiration for several unforgettable movies, this early work of H. G. Wells was greeted in 1896 by howls of protest from reviewers, who found it horrifying and blasphemous. They wanted to know more about the wondrous possibilities of science shown in his first book, The Time Machine, not its potential for misuse and terror. In The Island of Dr. Moreau a shipwrecked gentleman named Edward Prendick, stranded on a Pacific island lorded over by the notorious Dr. Moreau, confronts dark secrets, strange creatures, and a reason to run for his life.
While this riveting tale was intended to be a commentary on evolution, divine creation, and the tension between human nature and culture, modern readers familiar with genetic engineering will marvel at Wells's prediction of the ethical issues raised by producing "smarter" human beings or bringing back extinct species. These levels of interpretation add a richness to Prendick's adventures on Dr. Moreau's island of lost souls without distracting from what is still a rip-roaring good read.