Hello and welcome back to yet another Friday Fiction Feature! Tabatha back again with more mystery, intrigue, and fluffy dogs. That's right folks, this week we'll be featuring mystery stories, but not just any mystery stories (and really, by now I'd be disappointed if you let me get away with just listing a few mysteries). This time we've got mysteries featuring some very unexpected detectives. Don't get me wrong, dear readers, I like a good Poirot conundrum, but today we're outdoing the little Belgian with some savvy librarians, cooks, and…dogs. Because what fun is it if I can't inspire some very odd looks as you get caught laughing at murder mysteries.
____________________________________________________________
Murder is Binding (Booktown Mystery #1) by Lorna Barrett
First on the list, is another book to prove what I keep trying to tell you: academia is killer! (Ba dum chi!) Murder is Binding brings us into the competitive, demanding, and quite literarlly cut-throat world of small town bookshops. Our intrepid investigator the mystery vendor finds herself caught up in the dangerous world of used book sales as the search for a good cookbook gets out of control and murder is just the icing on the cake (buckle up folks, the puns are just getting started!).
The streets of Stoneham, New Hampshire are lined with bookstores…and paved with murder.
Stoneham, New Hampshire, was a dying town until community leaders invited booksellers to open shop. Now, its streets are lined with bookstores – and paved with murder…
When she moved to Stoneham, city-slicker Tricia Miles was met with friendly faces. And when she opened her mystery bookstore, she met with friendly competition. But when she finds Doris Gleason dead in her own cookbook store, killed by a carving knife, the atmosphere seems more cutthroat than cordial. Someone wanted to get their hands on the rare cookbook that Doris had recently purchased – and the locals think that someone is Tricia. To clear her name, Tricia will have to take a page out of one of her own mysteries – and hunt down someone who isn't killing by the book …
Drizzled with Death (Sugar Grove Mystery #1) by Jessie Crockett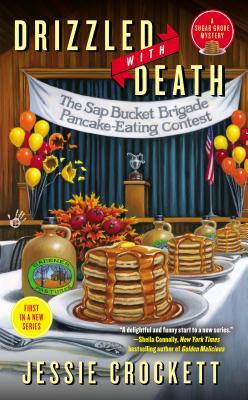 Continuing the cookery theme, Drizzled with Death presents something of a sequel: what happens when someone does get their hands on a cookbook worth killing for (I understand they were much more valuable back before you could web search for 4,296 bad recipes for brownies). Leaving behind all that killing to get the recipe nonsense, this killer has decided to simply kill with the goodies themselves, and poisoned syrup pulls our detective into a very sticky situation. This sleuth has even farther to go, without even a career of reading detective novels, this unexpected investigator has to work with the investigative skills she has picked up from a lifetime of…making maple syrup.
Meet Dani Greene—a fourth-generation maple syrup maker dealing with a first-class troublemaker…
The annual pre-Thanksgiving pancake-eating contest is a big event in Sugar Grove, New Hampshire. It's sponsored by the Sap Bucket Brigade, aka the firefighters auxiliary, and the Greene family farm provides the syrup. But when obnoxious outsider Alanza Speedwell flops face first into a stack of flapjacks during the contest, Greener Pastures' syrup falls under suspicion.
Dani knows the police—including her ex-boyfriend—are barking up the wrong tree, and she's determined to pull her loved ones out of a very sticky situation. The odds may be stacked against her, but she's got to tap the real killer before some poor sap in her own family ends up trading the sugar house for the Big House…
Bark of the Covenant by Vicky Kaseorg
Our next selection gives us our most unusual detective yet: dogs. Bark of the Covenant mixes mystery, romance, and spirituality with the tale of a very talented canine who helps uncover a local mystery. And get some scratches behind the ears while he's at it…it's important to keep priorities straight after all.
A lonely, discouraged woman is beckoned to a small town to care for her dying, despicable father. At the same time, the town is reeling from the first murder in a hundred years, devastating their peaceful community. In this inspiring story of redemption, a pack of wild dogs of an ancient and rare breed bring about healing, and a surprising solution to the murder mystery. A book for dog lovers, God lovers, and mystery lovers alike, with a hint of romance for everyone else.
Gone With the Woof (A Melanie Travis Mystery) by Laurien Berenson
The next book on our list brings the pooches back with more puns per page than even I can manage. Showing us yet again how dangerous a life with books can be, Gone with the Woof begins with a house full of dogs and a writing job, and quickly turns deadly. Even though (or maybe because) she has a house full of puppies and toddlers, this impromptu detective sets out to investigate the murder, clear her name, and, most important of all, finish working on her book!
Despite a toddler and a house full of Standard Poodles, Melanie Travis can't pass up an opportunity to help legendary dog breeder Edward March pen his life story. But her enthusiasm flags when the breeder's angry son Andrew demands she stop working on the book. Why becomes imperative once Andrew is killed by a seemingly intentional hit-and-run and Melanie becomes Suspect #1. To get herself out of the dog house, Melanie sniffs out every possible clue, only to run into dead ends as fast as she's running out of time. And the longer the killer stays unleashed, the sooner she may end up in the dog house for good.
Whiskey with a Twist (A Whiskey Mattimoe Mystery #5) by Nina Wright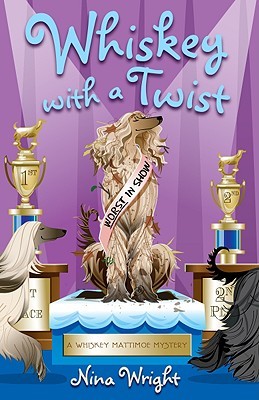 Last but certainly not least, I give you Whiskey with a Twist the story of a very unfortunately named detective who uses her very specially trained dog (I imagine a purse-snatching pooch is a very valuable asset) as cover when she investigates her fellow dog breeders (apparently it's just as dangerous to own a dog as it is to settle down for a seemingly uneventful life in academics). Armed with little more than a smelly canine friend to help her sniff out the clues, Whiskey sets off for some derring-do in our last dog-eared mystery.
Whiskey Mattimoe's Afghan hound Abra has many talents: stealing purses, consorting with criminals, and farting, to name a few. Now, Abra's been chosen to participate in the prestigious Midwest Afghan Hound Specialty in Amish country . . . as a Worst-in-Show example of how not to train an Affie.
Suddenly, a prize-winning pooch disappears, an owner is murdered, and a handler turns up dead. The sleepy community's rustic charm is replaced by ruthless threats. Then Abra vanishes, too. Back at Whiskey's office, suspicious e-mails circulate. Could her colleagues be involved in the canine crimes? Something doesn't smell right—and this time it's not the dog.