Hello and welcome back to the Friday Fiction Feature. Under the guidance of the Supreme Ruler of the Universe (also known as Tabatha for the more mundane parts of universe ruling) you will soon explore the finer points of world domination. Because nothing spices up a maniacal plot like some healthy competition, I've decided to bring you even more literary guidance on your path to total domination.
________________________________________________________________
1000 Steps to World Domination by Rob Osborne
The first entry for this week's theme (or sixth for those of you who stuck around since last week  for more advice) is 1000 Steps to World Domination because what fun is it if you have to stick to the boring rules of conquering through military force? A Queen/King of the Universe does not have to follow the rules after all.
Rob Osborne wants to conquer the world, and he wants to do it through comics. Are his dreams of global supremacy delusions of grandeur? Or is he, in fact, a tyrannical genius? In his pursuit of world domination, Rob faces numerous obstacles. His dogs don't take him seriously. He's impugned by his inner monkey. His wife rolls her eyes. But Rob is relentless. Resistance is futile!
Evil Plans: Having Fun on the Road to World Domination by Hugh MacLeod
Remember, you are (or soon will be) the Master or Mistress of the world, and if that doesn't mean you get to change the world order for your amusement, I don't know why we bother. That is why we also have Evil Plans: Having Fun on the Road to World Domination.

It has never been easier to make a great living doing what you love. But to make it happen, first you need an EVIL PLAN. Everybody needs to get away from lousy bosses, from boring, dead-end jobs that they hate, and ACTUALLY start doing something they love, something that matters. Life is short.
Freud once said that in order to be truly happy people need two things: the capacity to work and the capacity to love. Evil Plans is about being able to do both at the same time. The sometimes unfortunate side effect is that others will hate you for it. MacLeod's insights are brash, wise, and often funny.
The Art of War for Zombies: Ancient Chinese Secrets of World Domination, Apocalypse Edition by Sun Tzumbie, Virginia Reynolds
The conqueror's perspective is always a unique one; only the select few can see that behind the Ultimate Authority's veneer of cold power there is a normal person, who is just smarter than everyone else and really wants to be in charge. It can be so difficult to make the subjects to understand… But we goal-oriented few are not completely alone– Virginia Reynolds has shown an even more complicated perspective in The Art of War for Zombies as she shows the valiant work of the dominating few constantly opposed by those misunderstanding food…er populace.
They walk among us: the Living. They seek to vanquish us. And we bite back. Still, every zombie needs support. Now an ancient military manual reveals the secrets to keep Undead Comrades from losing their heads as they learn to assess the Enemy and develop offensive strategy (an easy task for those of the decaying flesh). It all starts by declaring one word: WAR! (And please note: The Apocalypse will not be televised.) A hilarious mash-up of the ancient Sun-Tzu classic, The Art of War, with Zombie, er, components.
The Geeks' Guide to World Domination: Be Afraid, Beautiful People
by Garth Sundem
I dare say that my dear readers, who come back week after week for punny lists of books, author interviews, odd medical facts, and history, may have one or two (hundred) geeks in their numbers. (I know, we were all surprised.) And so to you, my geeky compatriots, I present The Geeks' Guide to World Domination. While I will quibble with this ridiculous idea that the nerdily-inclined are not also gorgeous, I will tell you to celebrate, because (apparenlty) you already rule!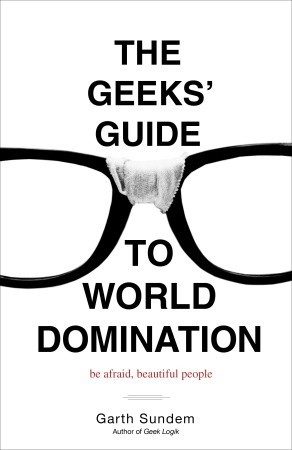 Sorry, beautiful people. These days, from government to business to technology to Hollywood, geeks rule the world.
Finally, here's the book no self-respecting geek can live without–a guide jam-packed with 314.1516 short entries both useful and fun. Science, pop-culture trivia, paper airplanes, and pure geekish nostalgia coexist as happily in these pages as they do in their natural habitat of the geek brain.
In short, dear geek, here you'll find everything you need to achieve nirvana. And here, for you pathetic nongeeks, is the last chance to save yourselves: Love this book, live this book, and you too can join us in the experience of total world domination!
You can learn to: 
• become a sudoku god
• brew your own beer
• build a laser beam
• clone your pet
• exorcise demons
• injure a fish
• join the Knights Templar
• master the Ocarina of Time
• pimp your cubicle
• program a remote control
• solve fiendish logic puzzles
• unmask Linus Torvalds
• win bar bets
•and much more (because we ran out of space)
(And here we were, misreading "The geek shall inherit the earth" all this time. I suppose spell check was a bit much to ask for.)
An Alien's Guide To World Domination by Elizabeth Fountain
And, last but not least we present…the other side. Because they tell me we must be fair, our final contribution to World Domination a la Fiction Reboot is An Alien's Guide To World Domination, a book which follows the cog in the glorious progress of a new power… I mean the valiant human stopping the alien invaders.
Whether you read it to root on the human race, to learn how to spot a troublesome freedom fighter early, or just to find out how to prove your boss really is a monstrous alien, I hope you enjoy the fight.
Louise Armstrong Holliday is the last person on Earth you'd expect to save the human race. But when she uncovers proof that her boss is an alien the color of lime jelly gone horribly wrong, and is at the center of a plot to destroy humanity, Louie decides to do exactly that. She begins a journey from her company's suburban Seattle office park to the old cities and castles of Eastern Europe. Along the way, Louie is attacked by flying books, overly-sensitive bat-crow monsters, and her own self-doubts. She must learn the truth about her closest friend, stand up to her boss, confront her oldest enemy, and make peace with her Aunt Emma, who annoys her in the way only true family can. She also has to rely on Buddy, the little blind mini-Schnauzer who saves her life twice – and really is from Mars.