Hello and welcome back to the Friday Fiction Feature! Tabatha here to take you on a tour of the normal, quiet, and unassuming fiction. We've been concentrating on monsters, murders, and the obscure for a while now, so I decided it is time for a change of pace, and this week I give you an entire Fiction Feature without claws  (though I just couldn't seem to keep out the murder!). So join me this week, as we explore the fang-free side of fiction.
_______________________________________________________________
Shades of Earl Grey by Laura Childs
First we begin with the antithesis of all that is scary, upsetting, dangerous, or awful: a cup of tea. And though we can't seem to keep out the murder, at least in Laura Child's Shades of Earl Grey the sleuths are equipped with what I consider the most important tool in stressful situations; a hot cup of Earl Grey.
Indigo Tea Shop owner Theodosia Browning is finally invited to a social event that she doesn't have to cater—but there's more than champagne bubbling…
Theo is mingling with the cream of Charleston society at the engagement soiree of the season. But as they eagerly await the dazzling young couple's arrival—the groom meets with a freak accident. The exquisite wedding ring—a family heirloom from the crown of Marie Antoinette—is mysteriously missing. Theodosia suspects that trouble is brewing. But when she goes to the authorities, they treat her like she's been reading tea leaves—and that's the surest way to put Theodosia's kettle on the boil…
Jacob Smith is Incredibly Average by Erin Hayes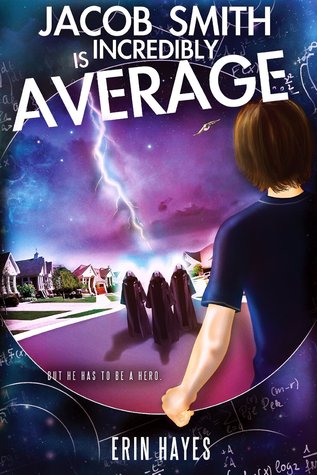 Next is a story of the world's most average boy. A boy who never would have crossed paths with a vampire, never been out in the woods under the full moon (completely average boys listen to their parents), or brought a demon into this world. Yet it is just this average-ness which makes him, and his story, incredible.
Jacob Smith is an average thirteen-year-old boy.
He's of average height, average intelligence, average looks. He even has a normal family, like an over-achieving brother, a rebellious sister, a kooky grandfather, and one or two family secrets.
Maybe he was living too normal of a life.
When his mother announces she's expecting another baby, Jake starts noticing that he's being followed by strange beings. They want Jake because he is the most normal, average person on Earth. And they need him so they can take over the planet.
Can a boy like Jake save the world?
Typical Day by Gary K. Wolf 
Continuing in the absolutely normal, the next selection is Gary Wolf's Typical Day. Typical Day offers a much more interactive video game for those who do not like surprises. The creator of Roger Rabbit takes us through the totally-average life of a man with a totally-normal future-predicting (causing?) game.
He played the game. Then the game played him. To the death.
Every morning Joyce Williams plays a game called LifeMaster. In one hour, LifeMaster takes him through his day. Joyce then goes out and lives exactly the day he's played.
Until the day his game cube gets destroyed.
His life goes into default mode. LifeMaster plays the game. Joyce lives the life.
Joyce expects life will get worse. Instead it gets better. Way better.
He's making more money than he can spend. He's hanging out with his favorite sports hero. He has a gorgeous girlfriend. He partners up with Herculisa, a crime-fighting superheroine. He becomes Jayhawk, a superhero himself.
Life is good! Life is perfect.
Then LifeMaster changes from a game of life to a game of life and death!
Not Your Average Fairy Tale by  Chantele Sedgwick
Now we'll move into the supernatural, though definitely not-monstrous world of fairies and the possibly-scary world of teenage romance with Chantele Sedgwick's Not Your Average Fairy Tale.
Ash Summerland has it all-good looks, popularity, and the best grades at The Academy of Magical Beings. Ready to complete his last assignment in order to graduate, Ash is confident he will get the apprenticeship he wants. but when he opens the letter from the Council, he is shocked to discover he has been assigned to apprentice Lady Shenelle, Keeper of Happy Endings- aka the head fairy godmother. Ash is forced to grant three wishes to a troubled human girl named Kendall, and ultimately give her a "happy ever after." But Kendall turns out to be more than he bargained for. Still grieving over her father's death, she doesn't want anything to do with Ash. And worst of all, she doesn't believe in happy endings.
So remember writers and readers: when that great story just refuses to end happily, now we know it's all the head fairy godmother's fault for withholding the happily-ever-after.
Katie the Kitten Fairy by  Daisy Meadows and Georgie Ripper
Finally I want to finish our detour into the non-monstrous with one more fairy story with the cheeriest, least-threatening plot I can find. In Katie the Kitten Fairy readers can join the fluffy enchantress through her magical adventures without fear of vampire bite, werewolf howls, or ghostly murders.