Welcome back, ladies and gents to the Friday Fiction Feature and your usual host Tabatha! This week we continue the monster theme, so quickly grab your silver and stakes, get under the covers, and join us for some really sharp fiction!
________________________________________________________________
Starting off this week's feature is the reason we're so vamp'ed for the 2nd edition monster mashup:
Villagers by Brandy Schillace
I know, I know, it's bad form to toot your own horn, but Brandy isn't writing this, Tabatha is, so I get to toot all I want! And this week we're celebrating the release of The Jacob Maresbeth Chronicles Book 2: Villagers where Brandy brings us back to Newport News and the thrilling world of love, adventure, and teenage journalism! (Also in kindle!)
It's not easy being the only unofficial vampire at Newport News High–especially when your sister starts dating the local jock (and first-class jerk) Tony Peterson. Convinced that Tony is up to something, Jacob and his best friend Henry hatch a plan. Jake's investigative journalism doesn't break up Lizzy's romance, but it does lead him to some unexpected twists. Teaming up with co-newsie Trish Cohen, Jake and Henry take on a suspicious case of bike thefts–in between trips to the hospital for more tests (and more needles).
Will Jake be able to thwart an increasingly prying medical community to keep the blood supply flowing? Will Peterson and his posse clean Jake's clock?
More importantly, will Jake ever get a date to Homecoming?
Now that I know you're all as excited as me for the release of the Maresbeth sequel, lets see about some vampires who are a little more certain of their monstrous status.
How to Marry a Millionaire Vampire by Kerrelyn Sparks 
Our next contribution features a new kind of identity confusion with a heroine who desperately wonders, 'Do I have what it takes to stay a dentist?' before she even knows what a sharp career path that can be. And so, without further ado, I present a book with a title I just couldn't resist repeating: How to Marry a Millionaire Vampire. 
Roman Draganesti is charming, handsome, rich…he's also a vampire. But this vampire just lost one of his fangs sinking his teeth into something he shouldn't have. Now he has one night to find a dentist before his natural healing abilities close the wound, leaving him a lop-sided eater for all eternity.
Things aren't going well for Shanna Whelan, either. After witnessing a gruesome murder, she's next on the mob's hit list. And her career as a dentist appears to be on a downward spiral, because she's afraid of blood. When Roman rescues her from an assassination attempt, she wonders if she's found the one man who can keep her alive. Though the attraction between them is immediate and hot, can Shanna conquer her fear of blood to fix Roman's fang? And if she does, what will prevent Roman from using his fangs on her?
Vampire Crush by A.M. Robinson 
Keeping with the romances that really suck, Vampire Crush shows a normal world with a normal, intelligent, girl suddenly caught between the desire to uncover the mysteries of a high school full of students who want to stay after classes end, and the more baffling conundrum of cute boys.
I swear, my life was always totally normal.
 Normal house, normal family, normal school. My looks are average, I don't have any superpowers, no one's showing up to tell me I'm a princess – you get the picture. But when my junior year started, something not normal happened. There were new kids at school . . . new kids with a wardrobe straight out of a 19th-century romance novel, and an inexplicable desire to stay at school until sundown.
And on top of that, James Hallowell showed up. James, who stole my sandwiches in fourth grade and teased me mercilessly through middle school. James, who now seems to have the power to make my heart race any time he comes near.
But something weird is going on. Because James rarely goes out during the day. And he seems stronger than your typical guy. And he knows the new kids, all of whom seem to be harboring some kind of deep secret. . .
Chibi Vampire by Yuna Kagesaki
In Yuna Kagesaki's Chibi Vampire we've got a vampire as confused as Jacob and with even more baffling symptoms. While Brandy's intrepid journalist can't decide if drinking blood makes him a vampire, this next monster knows she's a vampire, but hasn't quite figured out the drinking blood part.
Karin is a cute little girl who also happens to be a vampire… with a twist. Once a month, she experiences intense bleeding from her nose – we're talking gushers! In other words, she's a vamp with blood to spare, so rather than stealing blood from humans she actually gives her blood to them.
The Historian by Elizabeth Kostova
Another in the line of my never-ending quest of fill academia with adventure, I bring you The Historian!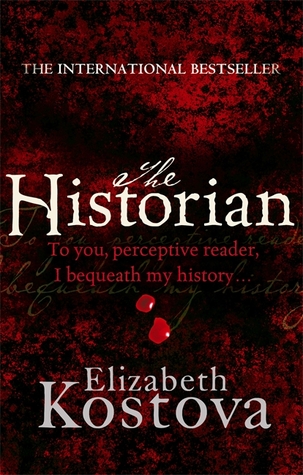 To you, perceptive reader, I bequeath my history….Late one night, exploring her father's library, a young woman finds an ancient book and a cache of yellowing letters. The letters are all addressed to "My dear and unfortunate successor," and they plunge her into a world she never dreamed of-a labyrinth where the secrets of her father's past and her mother's mysterious fate connect to an inconceivable evil hidden in the depths of history.The letters provide links to one of the darkest powers that humanity has ever known-and to a centuries-long quest to find the source of that darkness and wipe it out. It is a quest for the truth about Vlad the Impaler, the medieval ruler whose barbarous reign formed the basis of the legend of Dracula. Generations of historians have risked their reputations, their sanity, and even their lives to learn the truth about Vlad the Impaler and Dracula…Parsing obscure signs and hidden texts, reading codes worked into the fabric of medieval monastic traditions-and evading the unknown adversaries who will go to any lengths to conceal and protect Vlad's ancient powers-one woman comes ever closer to the secret of her own past and a confrontation with the very definition of evil. Elizabeth Kostova's debut novel is an adventure of monumental proportions, a relentless tale that blends fact and fantasy, history and the present, with an assurance that is almost unbearably suspenseful-and utterly unforgettable.
Vampire by Richie Tankersley Cusick
Finally I will leave you with another book whose cover just dares you to leave it behind, Vampire. With all the old staples: a haunted house, monsters, solitude that isn't quite as solitary as you think, hunky men, and a threat which dates back to dear old Vlad, this book doesn't miss a thing.
It's Darcy Thomas' summer home: the Dungeon of Horrors, owned by Jake, the gorgeous green-eyed uncle she's just met. But the gory fun turns to terror when real bodies are found with the mark of a vampire on their throats–and Darcy is targeted as the next victim.